Attributes
METHOD TYPECards
PAYMENT
PAYOUT
REFUNDS
Introduction
Google Pay enables your customers to complete their purchases quickly and easily in apps and on the web using the payment methods saved in their Google account or on their Android device.
Supported Countries
Afghanistan
Aland Islands
Albania
Algeria
Andorra
Angola
Anguilla
Antarctica
Antigua and Barbuda
Argentina
Armenia
Aruba
Australia
Austria
Azerbaijan
Bahamas
Bahrain
Bangladesh
Barbados
Belarus
Belgium
Belize
Benin
Bermuda
Bhutan
Bonaire
Bosnia-Herzegovina
Botswana
Bouvet Island
Brazil
British Indian Ocean Territory
Brunei
Bulgaria
Burkina Faso
Cambodia
Cameroon
Canada
Cape Verde
Cayman Islands
Central African Republic
Chad
Chile
China
Chinese Taipei
Christmas Island
Close
Cocos (Keeling) Islands
Colombia
Comoros
Congo
Cook Islands
Costa Rica
Cote d'Ivoire
Croatia
Curaçao
Cyprus
Czech Republic
Denmark
Djibouti
Dominica
Dominican Republic
Ecuador
Egypt
El Salvador
Equatorial Guinea
Eritrea
Estonia
Ethiopia
Falkland Islands (Malvinas)
Faroe Islands
Fiji
Finland
France
French Guiana
French Polynesia
French Southern Territories
Gabon
Gambia
Georgia
Germany
Ghana
Gibraltar
Greece
Greenland
Grenada
Guadeloupe
Guatemala
Guernsey
Guinea
Guinea-Bissau
Guyana
Haiti
Heard Island
Honduras
Hong Kong
Hungary
Iceland
India
Indonesia
Supported Currencies
EUR
USD
GBP
CAD
MMK
MYR
HUF
SGD
MXN
PHP
THB
IDR
RMB
ARS
PLN
UYU
CZK
BGN
BRL
COP
CLP
AUD
NZD
PEN
BHD
HRK
DKK
DOP
ECS
EGP
GTQ
HNL
HKD
INR
JOD
KRW
LVL
LBP
LTL
NIO
NOK
OMR
QAR
RON
RUB
SAR
RSD
ZAR
SYP
SEK
CHF
TWD
TRY
UAH
AED
VEF
VND
YER
EEK
ISK
SKK
YEN
NIS
CNY
AZN
BYR
CRC
DZD
IQD
KWD
KZT
MAD
MDL
PKR
GEL
KGS
JPY
BAM
ILS
MOP
NYU
UZS
TND
BDT
BOB
ETB
GHS
KES
LKR
NPR
RWF
TZS
Google Pay Integrations
You can integrate Google Pay APM (alternative payment method) into any of the Nuvei payment solution environments:
Availability
Offering your customers Google Pay as a payment option depends on the following factors:
Card Types Supported
The following card types are supported: VISA, Mastercard, Discover/Diners, AMEX and JCB.
Merchant Location
When it comes to being able to accept Google Pay transactions, the location of your business matters. Merchants in the following regions are eligible:

United States
Europe
Asia Pacific
Australia

Location of where the Customer's Card Details are Stored
Customer compatibility depends on where the customer's card details are stored:

Cards stored on a Google Account:
Cards stored on an Android Device:
Available to customers in the following countries:

United States
United Kingdom
Singapore
Australia
Hong Kong
Poland
New Zealand
Ireland
Belgium
Russia
Japan
Canada
Taiwan
Spain
Ukraine
Brazil
Czech Republic
Slovakia
France
South Korea
Nuvei Payment Page Integration
Integrate Google Pay into your Nuvei Payment Page by contacting our Support Team and specifying:
The website domain from which you wish to process Google Pay payments.
The Merchant IDs to be enabled for processing Google Pay Payments.
Once this is set up, the "Buy with G Pay" button becomes visible in the Nuvei Payment Page to eligible customers.
They just need to click the button and Nuvei takes care of the rest.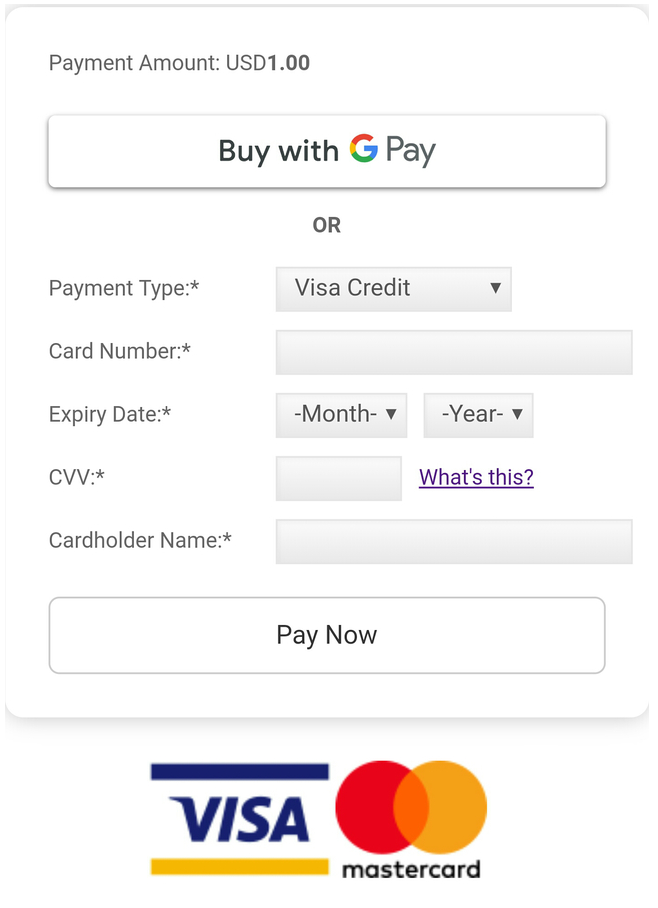 Other Google Resources
Google provides a set of additional resources to help you with your implementations:
Google Pay Workflow